Kung-Fu fun
Last weekend was not only about getting ready for Halloween, it was also all about Kung-fu!
K had her promotion on Friday night.
She received her Orange/purple belt
A and W tested on Saturday morning.
Wendy got her teen's Orange belt
Alex received his purple/white sash...a sign of his level of commitment and dedication to his school.
As part of his test he had to defend himself against multiple attackers.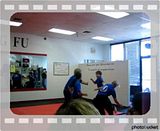 I am feeling super lucky these days that we found such a great Kung-Fu studio. Sifu Tom and his family work hard to make sure that the whole family feels included. We are all taking class now, and everyone is working hard and looks forward to going to classes. Last week we even had a private Tai-Chi class with our Sifu where we learned the first 12 steps of the Tai-Chi short form. Every day we practice it together. How many families do you know who get to share in the same activities like that??
Labels: The Kids