President's Day weekend
My dad came out last week from the East Coast to spend the long President's Day weekend with us.
Saturday was WARM, so after I got back from my Team in Training run, we took the kids for a walk around a local lake while Craig got in his run by lapping us several times. Then the kids took Grandpa to their favorite sushi resturaunt. By the time we were done, the table was littered with empty sushi plates and grandpa was thuroughly impressed with both the quantity and variety of sushi the kidos managed to pack away. (I wish I had remembered my camera!!) The rest of the day was spent napping, playing cards...
...and playing a little Wii Tennis.
On Sunday we headed up to Mount Hood...we had our skis, but were a bit concerned about the weather and the rain. The last week or so had not been good for the slopes. As we reached the turn-off for Timberline ski area, it was still raining! But about 2 miles from the parking lot it switched to snow, so our ski day was saved. Despite the wind blowing snow and sleet at us all day, the conditions were quite a bit better than I had tought they would be. With several inches of fresh snow, we got some good powder runs in, and despite the fact that the top of the mountain was closed, I think we all got a good skiing fix.
We met up with our friends C and M at the lodge so that the boys could snowboard together.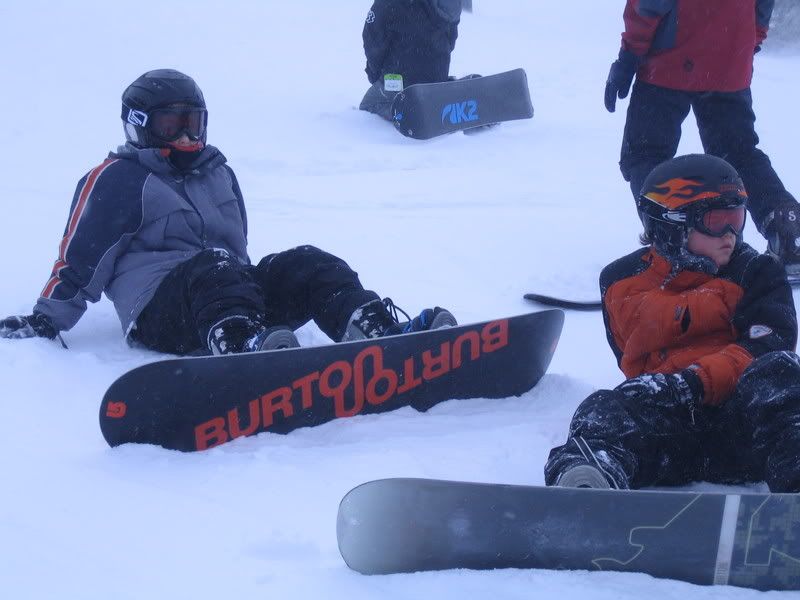 A is on the left...its kind of hard to tell with all the gear on!)
I am most proud of W's ski day. For the past year, she has been really trying to learn to snow board and decided after our last trip to the mountain that enough was enough!! So on Sunday she strapped on skis for the first time and had a blast!! After her morning lesson, during which she wowed her instructor with her quick learning, we took her to some more challanging slopes, and she did great!
I even got to ski a bit with K after I picked her up from her all day ski school.
We closed the weekend with chocloate birthday cake with fudgy frosting goodness !!
Happy Birthday Grandpa
Labels: The Kids